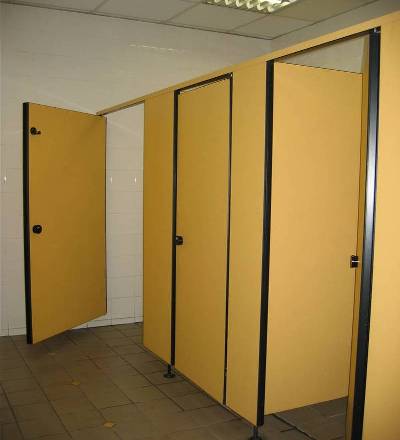 Introducing ProCubix SP36, the latest toilet cubicle system developed by ProCubix Contracts Sdn. Bhd. The new SP36 has been designed to meet requirements for a strong, durable, stylish and practical toilet cubicle system in lavatory environments.

SP36 combines the advantages of solid grade laminate with melamine surface, aluminium skeleton internal frame and exposed PVC profiles to offer a unique toilet cubicle system.

Polyurethane is injected between two shells of solid grade laminate with 3.0mm thickness, acting as permanent bonding agent between laminate and frames. The foam is rot-free, resistant to chemicals and will not absorb any moisture. Solid grade laminate is resistant to chemicals, chlorine, disinfectants and cleaning agents in safe concentrations. It is also impact-resistant, shrink and abrasion-proof as well as heat-resistant.

Edges of doors, dividers and pilasters are covered by PVC profiles with rounded-off edges, which act as capping and door jamb, providing sound-dampening effect when door hits against pilaster. Aluminium profiles such as headrail, wall and corner are powder-coated to provide long lasting usage. Door spacer strip is introduced to provide most rigid installation in SP36 cubicles.

Stainless steel or nylon hardware options are available for selection.

Overall, SP36 is made of sandwich elements with high quality, wear-resistant plastic materials and smooth surface, without protruding frame profiles. It also has built-in stability, stress and distortion-free features.

It all adds up to stylish and distinctive cubicles that provide the ultimate lavatory experience.
Download Brochure